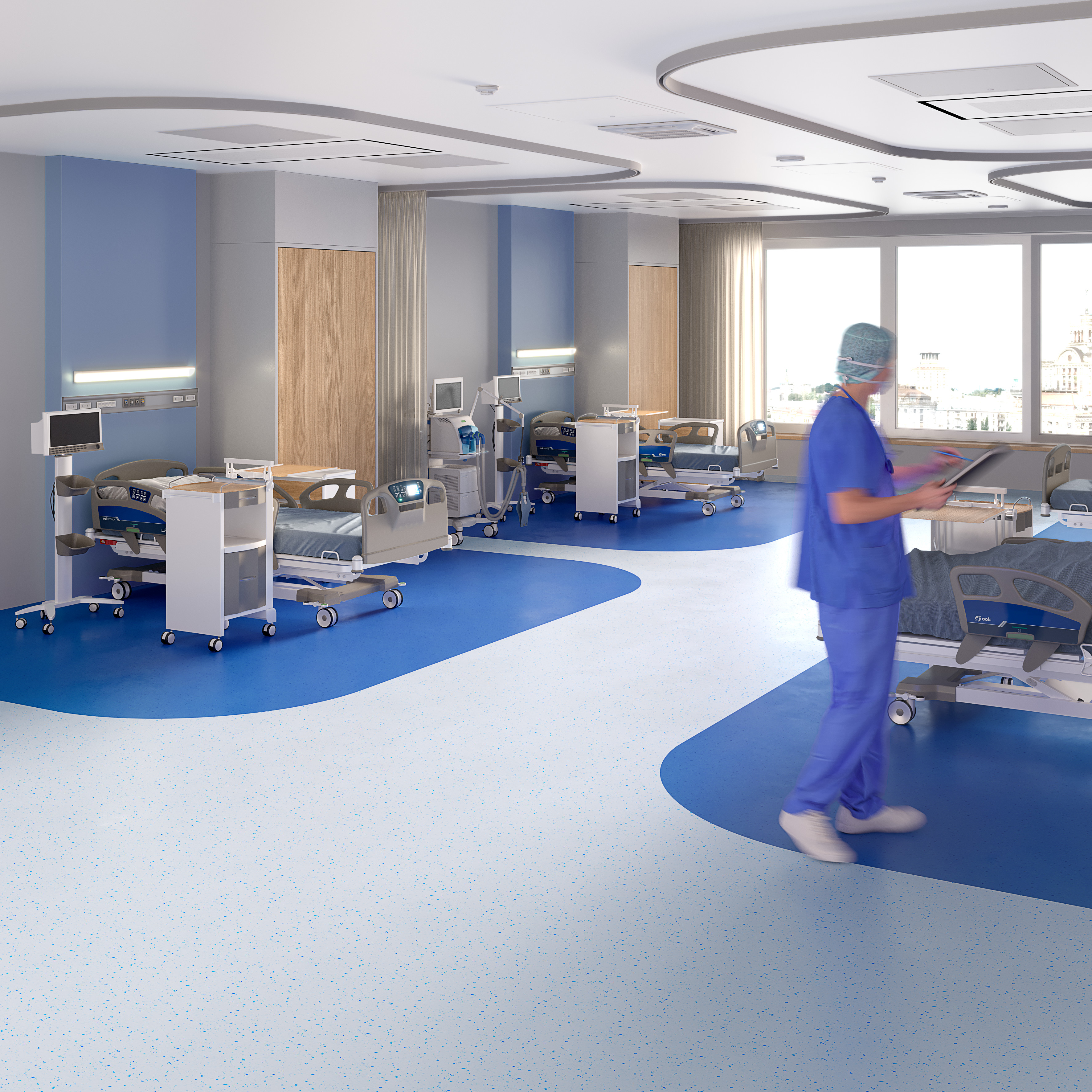 Gerflor, a world leading manufacturer of flooring, has added a brand-new range to their already highly acclaimed Mipolam legacy collection of homogeneous flooring
The Mipolam Planet™ range from Gerflor is a fully flexible, healthy, and sustainable homogeneous flooring innovation, perfect for superior specifications in a vast array of commercial high-end traffic areas. It is ideally suited for busy healthcare and education applications as well as many other contract hard working markets. The Mipolam Planet collection is available in 40 trendy and contemporary colours, and it delivers outstanding, unrivalled levels of performance, every time thanks to its superior product construction and exclusive and patented surface treatment Evercare™.  As part of the new range Gerflor have also launched Mipolam BioPlanet which is made up of 17% organic content which delivers a strong eco option for a host of greener applications.
With a weight of 2700 gr/m² the new Mipolam Planet™ range of polish-free flooring combines toughness, low maintenance, excellent resistance to wear and tear, together with delivering stunning style for the most demanding areas. This new range is an addition to Gerflor's world class Mipolam brand which was first manufactured in 1937. The brand has a legacy of providing a product that has always been truly fit for purpose, delivering incredible levels of hygiene, protection, and durability to a host of market segments for over eighty years. This newest addition to the Mipolam 'family' offers yet another milestone of providing the latest colours and designs, together with exceptional levels of technical performance. The new Mipolam Planet™ range comes with an R9 slip resistance rating as standard, but also available upon request is an R10 option.
In the panorama of homogeneous products, Mipolam Planet™ stands out for its sobriety and elegance. Mipolam Planet™ is a delicate balance between a solid colour base and translucent chips which are embedded in the material, the final result is a deep and 3D colour base. The collection provides a sophisticated and elegantly co-ordinated colour palette bringing forty original and contemporary colour combinations to life. With variations of blue, beige, and grey, the colours within this world class collection provide a stunning blend of design choices that will excite both designers and specifiers alike.
For a host of commercial projects that need good resistance to chemicals and a smart aesthetic approach, together with high levels of wear and tear Gerflor's new Mipolam Planet™ range delivers one of the best surface treatments on the market.
Mipolam Planet™ comes with the exclusive and patented Evercare™ surface treatment for easy maintenance (up to 30% savings) with no wax needed for the life of the product and an unrivalled level of chemical and stain resistance.
The patented surface treatment is obtained by UV laser cross-linking offering the best chemical resistance to the main chemical products used in healthcare environments such as betadine, eosin, and hydro alcoholic solutions, thus making the maintenance extremely easy and the floor longer lasting. This exclusive surface treatment also avoids applying any acrylic emulsion throughout the lifetime of the product.
Mipolam Planet™ as with all Mipolam flooring is ISO 22196 certified to limit the spread of infections (including MRSA, E. coli and S. aureus) at 99% and delivers TVOC Effective 28 days <10μg/m3 => indoor air quality. Mipolam Planet™ is also 100% REACH compliant, Floorscore certified and 20% lighter than standard products. Also certified to ISO 21702, Mipolam Planet™ has anti-viral activity against Human Coronaviruses helping to limit the spread of Covid-19 by 99.7%.
Mipolam Planet™ is also antistatic (<2kV), with a residual indentation at 0.02 mm and complies with the EN ISO 10581 norm. Mipolam Planet™ has a binder content Type I and is suitable for heavy duty traffic areas and is Bfl-s1 fire resistant. As part of Gerflor's sustainable development policy, this product is manufactured in the first floor covering plant that has been awarded with the triple certification: ISO 9001 (quality), ISO 14 001 (environment) and OHSAS 18001 (safety).
Nav Dhillon, Marketing Manager, Gerflor UK commented, "This brand-new addition to Gerflor's Mipolam legacy collection enables specifiers to create inspiring interiors that deliver on both looks and performance. The new Mipolam Planet range offers excellent durability, reliability, ease of maintenance, together with endless design possibilities that is synonymous with our Mipolam range of products." Nav Dhillon added, "the new Mipolam Planet range now also offers Mipolam BioPlanet which is made up of seventeen percent organic materials. The new collection also comes with an R10 option which delivers increased levels of slip resistance which can be a great benefit in some settings."
In addressing the most rigorous of industry applications the Mipolam Planet™ range is also complemented with a series of ESD EL7/EL5 solutions that provide both static-dissipative and static-conductive floors that meet all ESD control standards, including ATEX requirements, ensuring the protection of electronic equipment, components, and people against electro-static discharge risks, together with the protection of premises against explosive risks. The colours co-ordinate well with the Mipolam Planet palette if projects require a unified look across different areas of a facility from corridors right through to cleanrooms.
Mipolam Planet™ is manufactured with 25% recycled contents and is 100% recyclable ensuring the lowest environmental impact at every step of the product's life.  Gerflor uses recycled materials with most of the post manufacturing waste and some post installation waste is also incorporated back into the products being manufactured. This 'cradle to grave' attitude ensures that the products are easy to maintain and require drastically less water and chemical products. The Gerflor manufacturing sites are also classed as "100% 'Green Energy" locations.
Gerflor's products can easily last up to 30 years… even in high traffic areas, in accordance with the specified cleaning and maintenance instructions. Great news for the client…and great for the planet!
The brand-new Mipolam Planet™ collection from Gerflor allows you to explore a range of extensive colour options and combinations to create genuinely inspiring interiors with heightened maintenance and protection benefits. For superior cleaning benefits, enhanced protection and retaining overall appearance… it must be Mipolam Planet™ from Gerflor.
Gerflor's portfolio of all types of commercial vinyl flooring is supported by a dedicated team of experts, specification, and technical teams, plus training and back-up services.
Learn more about Gerflor solutions, ask for a free sample or contact us to speak to a specialist today by calling 03332 412901, emailing contractuk@gerflor.com, or visiting gerflor.co.uk for the latest innovations.