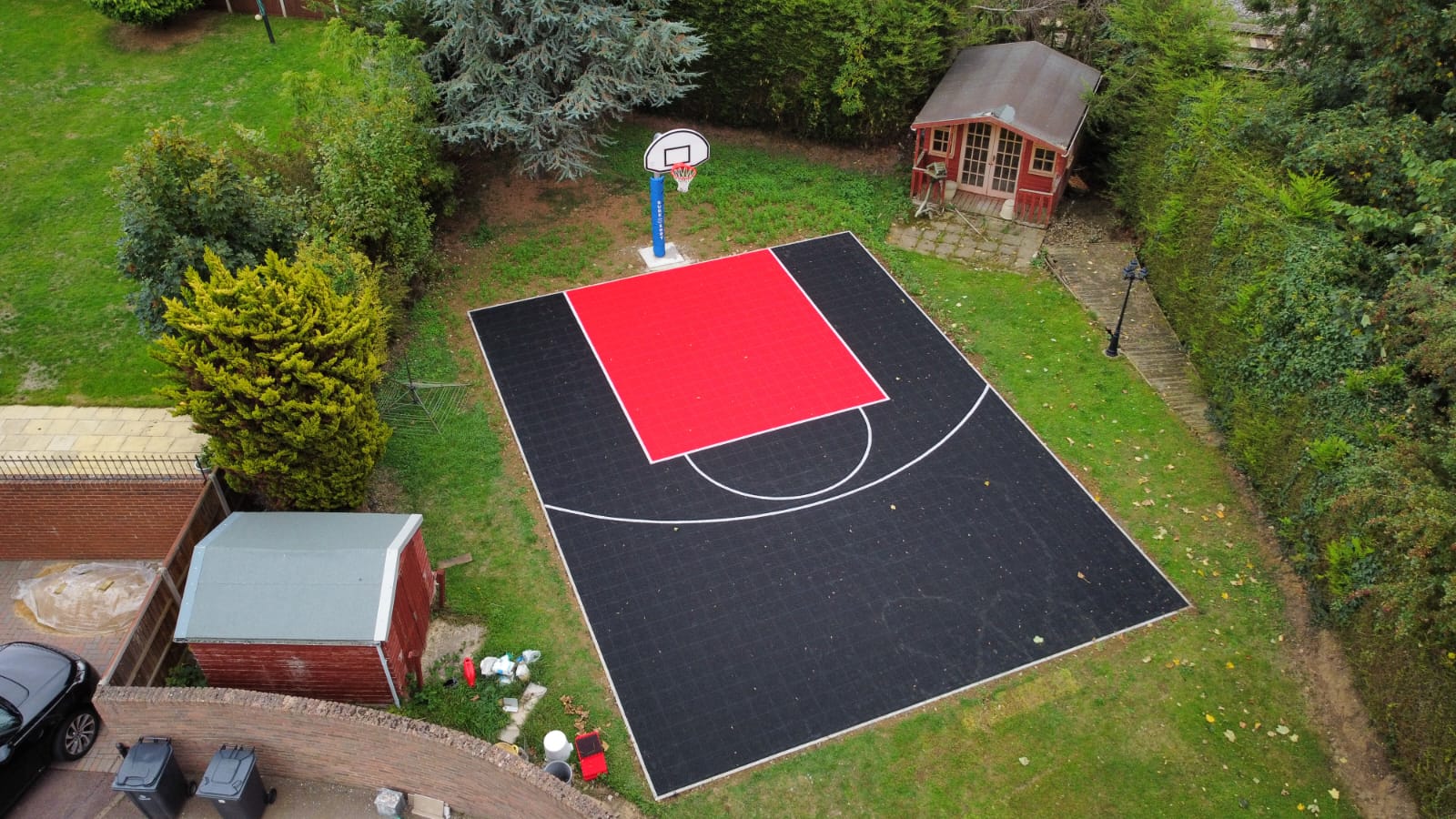 When a 'sports enthusiastic' family in Gloucester wanted to create a basketball court in their garden, they turned to international flooring specialist Gerflor to supply their world class Sport Court® PowerGame™ Plus tiles in eye catching Black and Red colours. It would be an inspired move that would produce hours of fun and play for the whole family.
This rare, privately owned 'back yard project' would need to have the highest standards of fitting to fully deliver a top-flight finish. The task would be the responsibility of Birmingham-based Bradleys Surfacing Systems. A family owned and operated company, Bradleys Surfacing Systems was formed in 2012 by Tom and Ray Bradley to offer a range of products and services to the UK marketplace. Bradleys Surfacing Systems are suppliers and installers of a range of synthetic sports, play and landscaping surfaces for both commercial and educational settings.
Tom Bradley, Managing Director Bradleys Surfacing Systems said," The initial request came directly from the client who wanted a top end basketball facility in their garden. It's the first time we've completed an install in a domestic setting dedicated to basketball use only. We specified Gerflor's PowerGame™ Plus outdoor sports surface thanks to its unique construction, it was also fit for purpose for the application and would take minimal time to install."
PowerGame™ Plus from Sport Court ® is the safest outdoor court in the world, featuring the lowest skin abrasion of any outdoor court surface and is made of the highest quality materials and UV stabilisers to protect it from wear and tear. It is a perfect fit for a host of performance sports including badminton, tennis, basketball, netball and hockey. The patented Double-Tier shock absorbing grid and Lateral Forgiveness™ reduces joint strain and fatigue to help participants play longer and more safely than ever.
Available in 12 stunning colour choices the performance of PowerGame™ Plus is also designed to deliver excellent ball bounce, a huge factor in both on- court response and enjoyment. So, no-one plays a dull game. Its' modular system allows a quick and cost-effective transformation of an existing space. Designed to overlay outdated concrete or asphalt surfaces, transforming them into colourful play surfaces in the blink of an eye. Sport Court® floors do not require yearly, costly refinishing and are perfect for MUGA's (Multi-Use Games Areas), Education facilities, Leisure and Sporting Events. and ideal for both athletes and the community. It is easily possible to build a new court, renovate an existing space, or set up portable courts for a tournament or event.
On fitting and installation Tom Bradley further commented, "We used two of our highly trained fitters to lay the Gerflor Sport Court floor which was easily completed in a single day." Tom Bradley added, "The Sport Court PowerGame™ tiles were exceptionally easy and fast to lay."
Tom Bradley ended by saying," This was a superb install for this 'sports energetic' family in Gloucester. The preparation work involved constructing a fully engineered base which incorporated a layer of porous macadam to create a well-draining all weather surface, which works perfectly with the Gerflor Sports Court system."
Commenting on this unique project Chris Newey, Gerflor Area Sales Specification Manager, West Midlands said, "PowerGame™ Plus provided this installation with an exceptional playing experience, together with also ensuring a high level of player safety and comfort,"
Sport Court® PowerGame™ Plus product summary
More athletic events are played on Sport Court® surfaces than on any other outdoor sports flooring in the world. Sport Court® is a registered trademark of Connor Sport Court® International and is used to identify the original and authentic modular sport surfaces developed and continuously improved since they were introduced in 1974.
With Gerflor's modular PowerGame™ Plus tiles, everyone has the opportunity to share a host of memorable sporting and recreational experiences. PowerGame™ Plus tiles are fun, available in vibrant colours so you can create eye catching designs that enhance any recreation area and are safe to play on. Designed for a wide variety of sports, the tiles are an ideal outdoor playing surface for every practice and ambition, from children to champions. Used at the highest levels of competition by being a partner of sports federations, this solution is manufactured to offer amazing and long-lasting aesthetics, with easy court customisation.
What's more, Sport Court surfaces are guaranteed to keep their good looks for years to come with minimal maintenance. With a packaging of 40 tiles, in ranges of 8 pre-assembled tiles, the installation is easy and fast. The installation of finishing solutions and the painting of game lines will perfect the court transformation. Disassembly is as easy and quick as assembly.
PowerGame™ Plus tiles provide exceptional game experience, together with ensuring the players' safety whilst eliminating costly annual maintenance. PowerGame™ Plus also provides easy and fast renovations. It has a Top Grid, Open Diamond pattern for better traction homogeneity and water drainage. The robust interlocking system provides optimal durability and safety with the saddle-shaped second grid, designed to prevent water retention.
Learn more about Gerflor solutions, ask for a free sample or contact us to speak to a specialist today by calling 03332 412901, emailing contractuk@gerflor.com, or visiting gerflor.co.uk for the latest innovations.
 -ends –