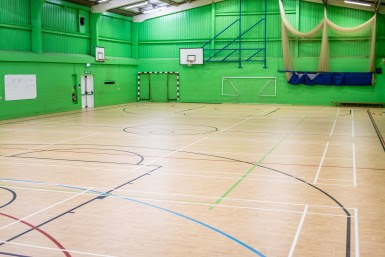 Specifying and installing 650m2 of Gerflor's world class Taraflex® Performance vinyl sports flooring in 'Light Cherry' would turn out to be a pivotal decision for Axminster Leisure Centre in East Devon. The refurbishment project to replace the existing flooring in their main sports hall would yield spectacular results for both the operators of the facility and the end users. The indoor sports surface solution that was specified would need to be of the utmost quality and readily available, considering how short the timescales were for the project and would need to be competitively priced for the funds available for this iconic renovation.
Chris Pursey, Gerflor Area Sales Manager at the time, Southwest & Channel Islands commented, "Leisure East Devon (LED) runs a number of similar sites for East Devon Council, and they have specified Taraflex® on other sites, so they had full confidence in our systems."
The installation of the Gerflor Taraflex® Performance flooring by Plymouth-based Roberts Flooring would need to be of the highest quality to meet the exacting standards set by East Devon Council.
Dave Moran, Managing Director, Roberts Flooring said, "Although this project already had Gerflor specified, we have carried out several sports floor installations using Gerflor products, one of which included Torquay Grammar School for Boys, this project had both Roberts Flooring and Gerflor nominated in the CFJ Flooring Awards in 2020. I believe that the client and end users are overjoyed with the new Gerflor Taraflex® sports floor."
Steve Parker, Area Building Surveyor, East Devon District Council said, "The new Taraflex floor is 'outstanding and first class' and much nicer than they had before. At East Devon District Council, we are extremely pleased with the new Olympic pedigree Taraflex® sports flooring."
Taraflex® Performance is a synthetic indoor sports flooring that can be specified for a wide range of sports applications, in a variety of sectors. It delivers optimal safety, comfort, and performance for users, as well as being available in an extensive choice of vibrant designs, making it the ideal choice for a host of locations.