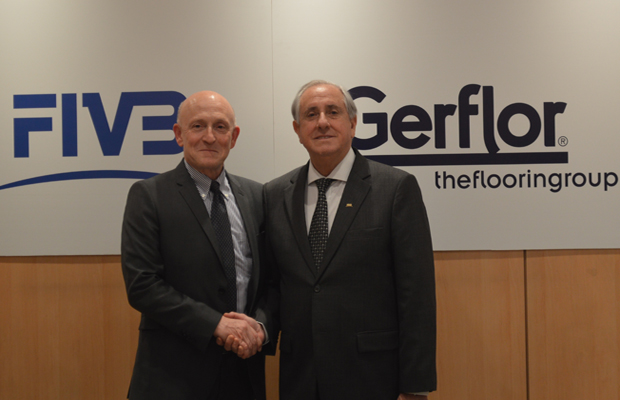 Lyon, France, November 16, 2016 – The International Volleyball Federation and world-renowned flooring company Gerflor signed a contract extension on Wednesday, renewing their flourishing partnership for the period 2017-2020.
Gerflor first became the official flooring supplier for the FIVB's volleyball competitions from 1997 to 2000 before becoming a regular partner since 2005.
As the most widely used sports flooring surface in the world, Taraflex® has been selected for successive Olympic Games from Montreal in 1976 to Rio de Janeiro in 2016 for indoor sports including; volleyball, handball, badminton and table tennis.
"Gerflor's innovative and state-of-the-art flooring provides the FIVB's competitions with the best surfaces for the world's top athletes to compete on at the highest level," FIVB President Dr. Ary S. Graça F° said. "The FIVB is proud to renew its partnership with Gerflor, which will play a key role as the federation looks ahead to important milestones including the FIVB Volleyball Women's World Championship Japan 2018, FIVB Volleyball Men's World Championship Italy/Bulgaria 2018 and the Tokyo 2020 Olympic Games."
"Gerflor is proud to pursue the journey with the FIVB for another Olympic cycle and to provide all volleyball players, from beginners to seasoned professionals, with the highest standards in safety and performance," Gerflor CEO Bertrand Chammas said. "Our teams are fully committed to assist the FIVB in its endeavour to promote the values of volleyball and sport in general. We look forward to a fruitful partnership with a shared vision, and innovative products solutions."
Gerflor provides flooring for the world's top volleyball nations and its products are known by players and coaches for their global sport performance. Gerflor is also recognised for its emphasis on innovation and development, which guarantees athletes the most outstanding and safest surface to play on.
Gerflor was present in Rio de Janeiro in 2016 for its 11th successive Olympics, providing the flooring for the volleyball tournament at the Maracanãzinho Arena, marking 40 years of Olympic tradition for Gerflor.
About FIVB: The FIVB is the governing body responsible for all forms of volleyball on a global level. Working closely with National Federations and private enterprises the FIVB aims to develop volleyball as a major world media and entertainment sport through world-class planning and organisation of competitions, marketing and development activities. The FIVB is part of the Olympic Movement, contributing to the success of the Olympic Games.

About Gerflor: Gerflor create, manufacture and market innovative, decorative and eco-responsible complete solutions for flooring, wall coverings and accessibility from installation to finishes. With an adapted approach to each market application: Healthcare, Education, Retail, Industry, Sport, Passengers vehicles, …with the famous brands Taraflex®, Mipolam®, Tarabus®, Connor Sports®, Sportcourt®, Gradus®.
Key figures:
2015 net sales: €791M of turnover (excl. taxes),
More than 3,300 employees,
Sales in more than 100 countries.