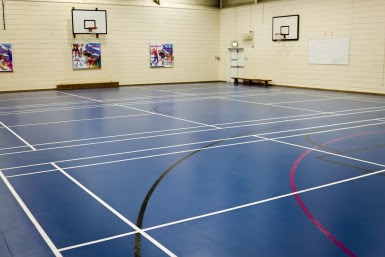 When an Academy school in Northamptonshire needed to replace their dated and dangerous Granwood sports hall floor with a spectacular new 'fit for purpose' indoor sports surface, they turned to international flooring specialist Gerflor to supply 400m2 of their world class Olympic standard Taraflex® Performance vinyl sports floor.
At Rushden Academy, they recognise the importance of Physical Education (PE) and the role it has to play in promoting long term, healthy lifestyles and making a
positive impact on physical, mental, and social health.
Installing the new Gerflor flooring would need to be undertaken by a flooring company that could deliver an excellent finish worthy of both the school and the quality flooring specified. Darren Brown, Director Finest Floors Limited commented "Rushden Academy were incredibly delighted with the final result and the Gerflor sports floor system exceeded their expectations. We currently already specify and install a large range of Gerflor products, so are confident in the quality of their materials. Their solutions are competitively priced for all budgets and readily available for all projects."
Lee Ward from Rushden Academy said, "We are extremely pleased with the overall performance of the Taraflex® sports product and its durability."
Taraflex® Performance is a synthetic indoor sports flooring that can be specified for a wide range of sports applications, in a variety of sectors. It delivers optimal safety, comfort, and performance for users, as well as being available in an extensive choice of vibrant designs, making it the ideal choice for a host of locations.