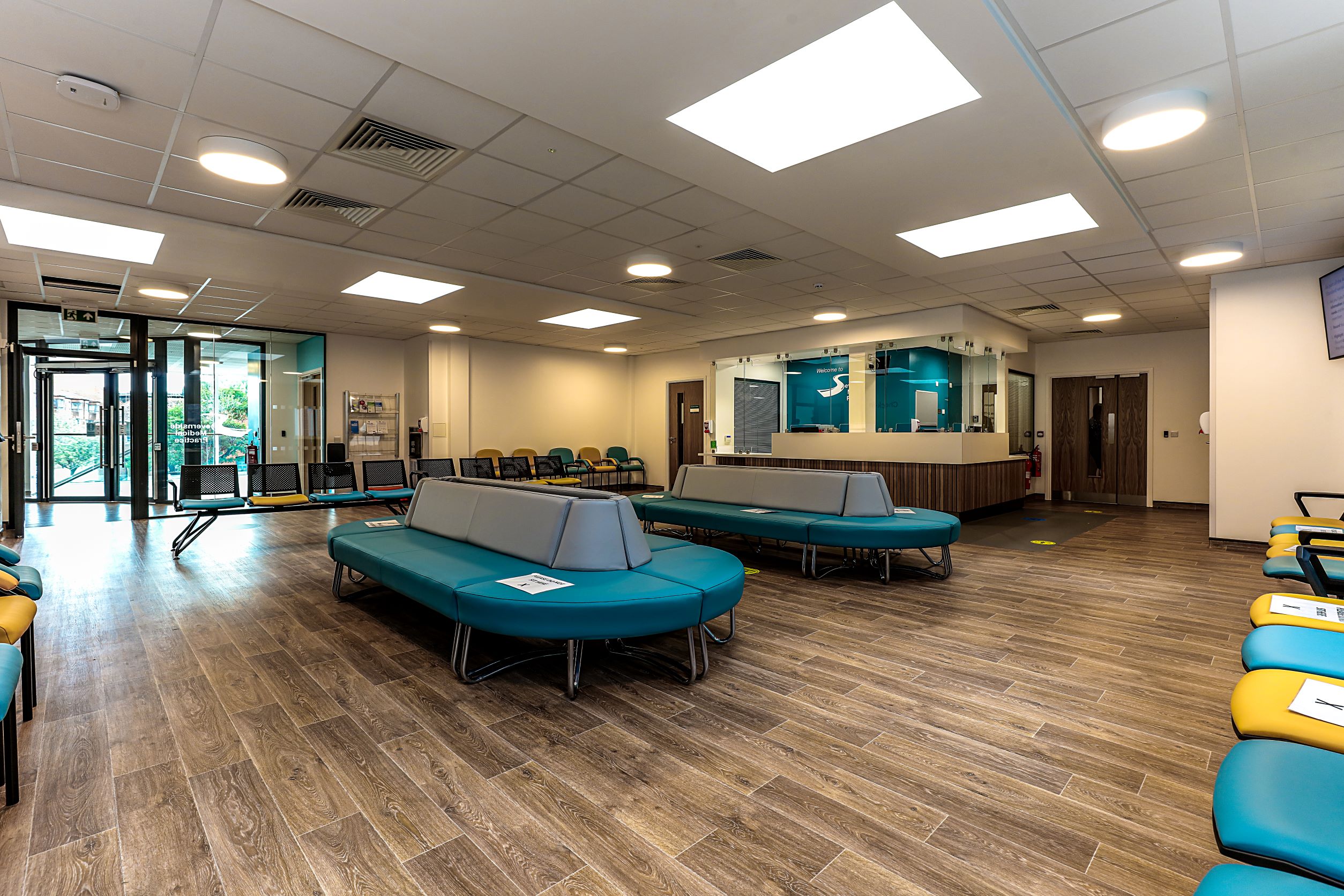 When Gloucestershire NHS Commissioning Group decided to replace an existing healthcare facility in the centre of Gloucester, over 3000m2 of flooring from international flooring specialist Gerflor was specified to complete the project to the highest standards. The project would demand high quality flooring that could meet and exceed the rigorous demands of this new healthcare facility head on.
The main contractor Kier Construction would, through Newcastle-based ADP Architecture, specify a mixture of Gerflors' Taralay and Tarasafe flooring solutions to produce the final high-quality flooring finish that the new build healthcare project would require.
The new health centre, in Quay Street in Gloucester, has replaced the previous Quayside House, which was built in the 1960s and had a planned 30-year lifespan. The new building includes two three-storey GP surgeries capable of serving more than 17,500 patients, a pharmacy, office space and ground floor parking.
Gerflor have an enviable history in designing and manufacturing high quality flooring for the healthcare market. It's a reputation built on expertise, knowledge, and innovation. With over 60 years' credible healthcare experience, Gerflor is a respected manufacturer of innovative, high performance, design-led, and sustainable solutions for flooring, and interior finishes. As hygiene and infection control go hand in hand, with Gerflor's trusted surface treatments decision makers can be assured that their healthcare products can stand up to any rigorous maintenance regime, together with delivering a durable, hard-wearing solution that also looks stunning.
Kier, a leading provider of construction and infrastructure services was appointed by Gloucestershire County Council to deliver phase one of its Quayside regeneration masterplan. Andy Bolas, Gloucester Office Operations Director at Kier Regional Building Central, commented: "We are delighted to have been appointed to deliver Quayside House. This achievement builds on our existing relationship working on the Gloucestershire County Council Framework."
David Chatfield, Senior Quantity Surveyor, Kier Construction Regional Building Western and Wales commented, "Quayside House was secured by Kier for one of our key local customers, where the new building utilised existing foundations."
David Chatfield added, "A major consideration of the project was that it was built through the COVID-19 pandemic, which is a feat in itself".
Gerflor recognised that cleaning and hygiene is even more important than ever, so it was vital to work with ADP Newcastle to specify the right flooring solutions for the healthcare environment at Quayside House. This collaboration would see 1500 m2 of Gerflor's Taralay Premium and Taralay Impression Compact installed within the internal walkways and communal spaces at Quayside House. The project required a 'no-nonsense' approach to deliver safe yet durable flooring for the walkways, clinical areas, and treatment rooms, so Gerflor's Taralay Impression Control safety flooring was also specified, alongside Tarasafe Ultra safety flooring for the storerooms and toilet locations.
The actual installation of the Gerflor flooring would need to be of the highest standards as set by Kier Construction. The delivery of the outcome would be the responsibility of Bristol-based Gollop Contract Flooring.
Director, Letisha Gollop, of Gollop Contract Flooring Limited said, "We Initially tendered for the project and then agreed a final price which enabled us to secure the contract. The Gerflor products we used were specified by the architects." On installation, their Contracts Manager for the project Paul Watts added, "Considering we had to work to an extremely tight schedule around other trades the Gerflor products were all extremely easy to lay with absolutely no problems. We understand that the flooring is performing really well and surpassing the clients' expectations on all fronts."
David Chatfield finally commented, "Although specified to us by ADP Architecture we would definitely choose to deliver Gerflor flooring again on other contract and in particular healthcare projects."
Letisha Gollop concluded, "We have specified Gerflor innovations many times before and would definitely choose Gerflor again, particularly now that many of their best sellers are stocked and are readily available in the UK for a fast turn around."
Andy Gordon, Healthcare Specification Manager – North commented "This was a greatly prestigious project to be involved in, alongside our architectural and installer partners. The client is absolutely delighted with the final outcome, both in terms of the fast turnaround of the project and the technical performance of the products installed".
Technical range overview detailed as below for the product categories installed on site:-
Gerflor's Taralay Premium range is truly unique in delivering a mass-coloured design flooring which offers outstanding performance for extremely high pedestrian traffic areas where high footfall is expected, providing a 100% pure homogenous wear layer that provides superior abrasion and traffic resistance along with long-lasting colours. The Taralay Premium is still today the best and unique product for healthcare. environments, offering outstanding performances especially for high traffic areas providing outstanding durability with no abrasion or scratching impact. Its wearlayer is highly compacted without any filler and delivers a long-lasting appearance with no soiling, yellowing or shading effect. It has a 1mm pure PVC wear layer and handles rolling heavy loads with ease. Taralay Premium has a Very High-Density foam backing and a double fibreglass grid reinforcement. Taralay Premium also has unique stain resistance (for aggressive chemicals used in healthcare) and comes with Protecsol® 2 technology and also delivers an Eco-responsible solution: Higher indoor air quality => TVOC <10µg/m3 (under the detection levels).
The Taralay Premium range offers 135 references across 6 designs providing trendy colours and designs. The Gerflor Design Department collaborates with a host of designers, architects, and colourists from around the globe to anticipate new decoration trends, and to develop new designs and colours. The range of exhilarating designs choices offered by Gerflor provides healthcare designers and specifiers with an unsurpassed spectrum of choices and effects.
The Taralay Impression Compact range also installed at Quayside House is ideal for heavy traffic areas and provides a 0.70mm PVC wear layer. This vinyl flooring is safe and reliable with an improved R10 slip resistance. Treated with Protecsol® 2 surface treatment to ensure no polish for the entire lifetime of the product. The Taralay Impression Compact collection also delivers a range of eye-catching innovative designs in a wide array of stunning colour choices.
Where there is the risk of potential slip hazards, Gerflor delivers the ideal solution offering outstanding slip resistance which is key to the safety of premises staff and the visiting public.
Taralay Impression Control from Gerflor is suitable for medium to high traffic areas. For healthcare specifiers, the range offers 18 references. Voted CFJ/CFA Product of the Year at the 2016 Flooring Industry Awards the Taralay Impression Control collection is ideal for hardworking healthcare environments and has been developed specifically for an extensive range of healthcare applications. Taralay Impression Control offers Safety in Numbers. It has an HSE 36+ pendulum test value, ≥ 20 μm surface roughness and a R11 wet slip resistance rating. With a Group T wear rating it's also ideal for heavy traffic environments. It also offers a hygienic solution thanks to a revolutionary UV cured Protecsol® control treatment for easy cleaning and maintenance.
Tarasafe Ultra is a specialist slip-resistant vinyl safety flooring inlaid with mineral crystals particles, as opposed to carborundum giving a brighter appearance. It also comes with a tough PVC wearlayer and meets HSE guidelines. Tarasafe Ultra is reinforced with a glass fibre grid and is suitable for use in all areas of heavy traffic where slip-resistance, durability and hygienic conditions are required. Tarasafe Ultra comes with a 12-year warranty and is also 100% recyclable. The range has a maximum hygiene rating meeting the EN Standard 22196 for anti- bacterial activity (E. coli – S. aureus – MRSA) (3) returning >99% levels of growth inhibition.
Learn more about Gerflor solutions, ask for a free sample or contact us to speak to a specialist today by calling 03332 412901, emailing contractuk@gerflor.com, or visiting gerflor.co.uk for the latest innovations.