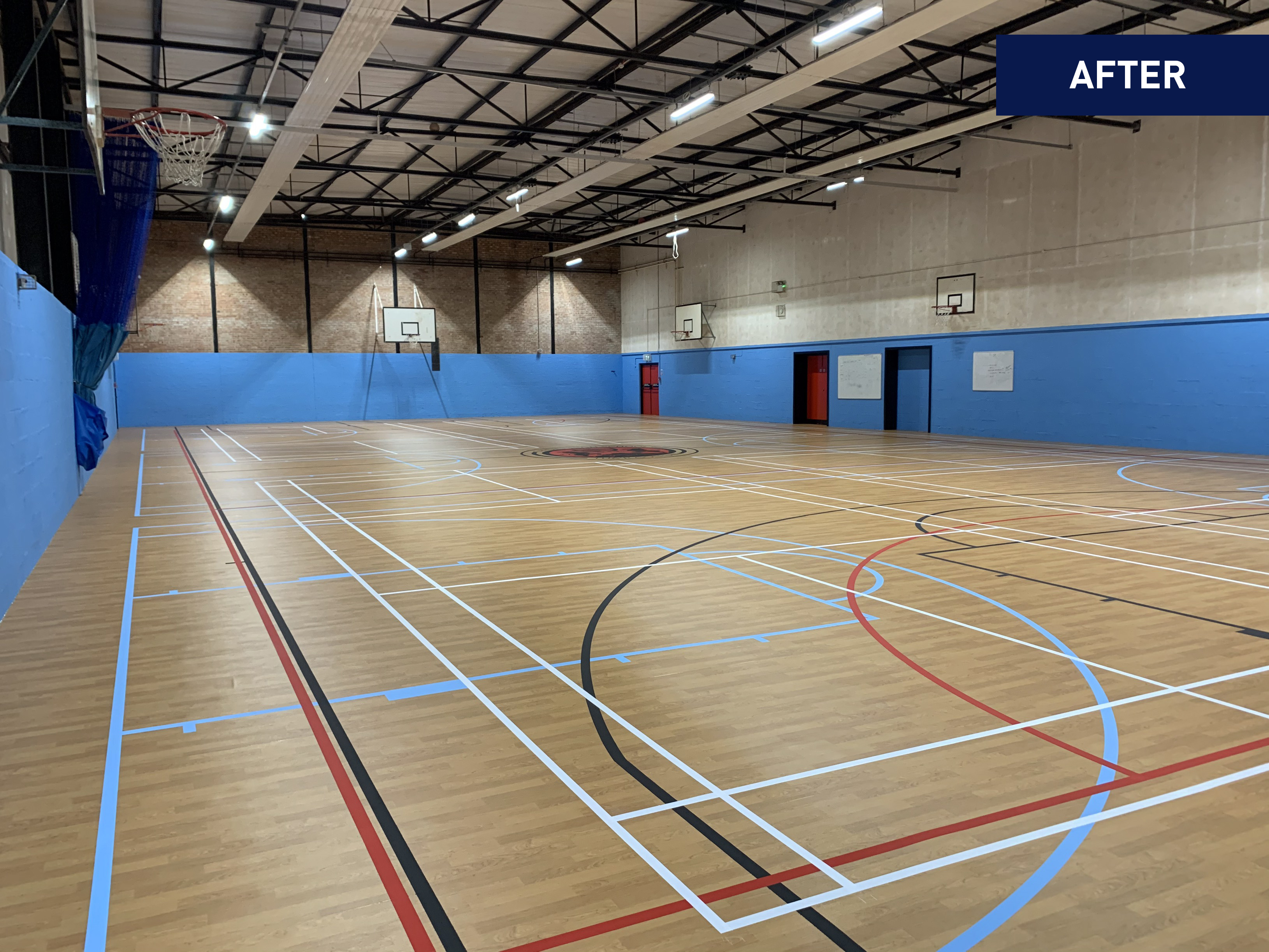 When Cardiff High school needed a high-quality multi-use sports flooring solution for their main hall, they chose international flooring specialist Gerflor to supply 700m2 of their world class Taraflex® Multi-Use vinyl sports floor in 'Wood Natural'. The project would also be further enhanced by Gerflor supplying an Isolsport underlay and their ubiquitous Taraflex® Bateco moveable protective covering which would ensure that the Taraflex® sports floor installed would remain protected during non-sporting activities.
Although Cardiff High School was established in its current form in 1970, its origins go back much further to the foundations of the three schools that merged to form the present school. The school's curriculum and co-curricular activities, wellbeing programs, sporting, and cultural programs, as well as experienced staff, ensure that Cardiff High School students have a broad and well-rounded education within a caring and accepting environment. Their main sports hall plays a huge part in the school's overall daily activities with sport featuring very highly in the school's curriculum.
The contracting responsibility for the new replacement sports floor would be undertaken by a well-established and respected Welsh flooring contractor. Floor Furnishings Limited are a Cardiff-based flooring contractor who have been conducting flooring contracts throughout the UK for a wide range of clients since 1961. It is an enviable history of commitment in supplying and fitting quality flooring.
Nick Jefferies, Company Director, Floor Furnishings Ltd commented, "We originally had an enquiry directly from the school. We chose Gerflor as we have an excellent long-standing relationship with them." On installation Nick Jefferies went on to say, "Gerflor's Taraflex sports floor was extremely easy to lay. The Isolsport underlay also supplied by Gerflor, enabled us to lay the Taraflex Multi-Use directly over the existing concrete floor, this was a real benefit as the project was on a very tight schedule, due to the hall being required for exams."
The flooring install in the sports hall was finally completed with appropriate line marking by Biddle Sport Ltd. A company renowned for their sports floor maintenance and court marking services.
The Taraflex® Multi-Use sports floor installed at Cardiff High School is a P1 category sports flooring, designed with both sport and non-sport use in mind, making it ideal for multi-purpose areas. Taraflex® Multi-Use protects users with excellent shock absorption and impact protection of 25% to 35%. Yet it's tough enough to protect itself against non-sport demands often found in many education environments such as the movement of tables, chairs, and exercise equipment. This is due to improved indentation resistance and recovery through Gerflor's new innovative CXP HD+ foam technology.
As the main hall would also have to facilitate other non-sports activities including archery the school also opted for Taraflex® Bateco which is a moveable solution for protecting multi-sports floors falling on non-sporting activities.
It can be unrolled over the floors and rolled up again before resuming sports activities. Taraflex® Bateco is made from 100% post manufacturing recycled waste.
Commenting on the Cardiff High School project Tony Thorne, Gerflor Specification Manager, South Wales said, "When the initial query came to us from Nick Jefferies at Floor Furnishings, we organised a site survey with the school to determine which of our world renowned Taraflex sports floors would be the best fit for the pupils, sports played, together with non-sports use such as exams and also as importantly, the budget."
Tony Thorne added, "With an abundance of legacy installations locally in South Wales, we had plenty of previous Taraflex installations to fall back on as examples of similar sports floors. Therefore, the school were able to see our floors in action and were able to speak with independent stakeholders on how easy they are to maintain and their low life cycle costs. Taraflex Multi-Use was then selected for this installation due to its high level of impact protection and indentation resistance. We then worked alongside Biddle Sport to provide the centre circle logo which really elevates the whole sports hall. "
Nick Jefferies commented further, "The client is extremely happy with the final result and overall performance of the Taraflex floor. Biddle Sports also produced a logo for the centre circle on the finished floor which looks absolutely superb."
Nick Jefferies ended by saying," Gerflor's support from the start of this project to the finish was brilliant. We have specified Gerflor products before with tremendous success and would definitely choose them again."
Product Overview
Taraflex® has been used by the largest international sports federations for decades. Through partnerships with these federations, Gerflor has been present at the Summer Olympic Games since 1976. Over six million children everyday enjoy the benefits of Taraflex® sports flooring.
Sport can play a huge part in student life. With a complete range of shock absorption P1/P2/P3, Taraflex® sports floors from Gerflor, deliver the right solution every time whether it is for exercise or play.
Taraflex® is treated with Protecsol®, which renders polish redundant and is triple action meaning no polish is ever required, it contributes to easy maintenance and is anti-friction burn and slide/grip. Meanwhile, surface reinforcement which delivers durability and abrasion resistance is provided by a D-Max fibreglass grid.
The flooring offers maximum hygiene with bacteriostatic and a fungistatic treatment and comes with the Triple Action Protecsol® surface treatment which provides easy maintenance, friction protection and 'intelligent' sliding coefficient.
This stunning multi use sports flooring is available in five wood-effect and two concrete-effect designs and four solid colours
Learn more about Gerflor solutions, ask for a free sample or contact us to speak to a specialist today by calling 03332 412901, emailing contractuk@gerflor.com, or visiting gerflor.co.uk for the latest innovations.